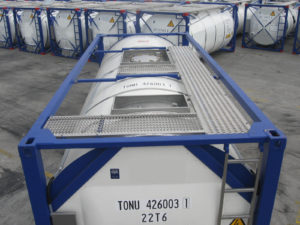 Tank One T11 ISO Tank containers meet all international standards and approvals for the national and international carriage of hazardous gases as well as non-hazardous liquids.
With a separate fleet dedicated to food grade ISO tank containers complying with all international regulations, Tank One can offer tank containers for the intermodal transportation of many liquid food products.
The vast majority of the fleet has been made to order by reputed tank container manufacturers in Europe, South Africa and China. All stainless steel (grades 316L and 304) used in our fleet has been manufactured in Europe and South-Africa.
Units that have been acquired in the resale market have been carefully inspected and tested. Tank One has a refurbishing program for its aging units. Refurbishments and repairs are carried out by a world-class tank container repair and refurbishment company.
TANK SPECIFICATIONS - T11
SINGLE COMPARTMENT, INSULATED AND STEAM-HEATED STAINLESS STEEL TANK CONTAINERS –

4 bar Maximum Allowable Working Pressure

(THERE MAY BE VARIATIONS)
24,000 ltr
3,500 kg
36,000 kg
25,000 ltr 
3,665 kg 
36,000 kg 
26,000 ltr
3,750 kg
36,000 kg

FITTINGS
MANLID
500 mm (20˝) diameter, 8-point fastening, low profile with TIR provision

AIR LINE
1.5˝ with stainless steel ball valve and 1.5˝ BSP – provision for fitting of manometer
RELIEF VALVE
2.5˝ Safety Relief Valve set at 4.4 Bar
BOTTOM DISCHARGE
DN80 stainless steel foot valve and clamped type butterfly valve with 3˝ stainless steel high lift foot-valve with butterfly valve and 3˝ BSP cap / Blind Flange
TOP OUTLET
Provision only
GASKETS AND SEALS
SWR (sweet white rubber) or PTFE (Teflon)
INSULATION
50 mm mineral wool / polyurethane with GRP or aluminium cladding
STEAM HEATING
8.5 - 10.5 m2 Surface area external steam tubes. 1˝ inlet and 0.75˝ outlet